​Four Tips for an Extraordinary Home Theater Experience
November 20, 2018

The cornerstone of any great home theater is the A/V gear. A big, bright screen, a stellar surround sound system featuring Triad or Episode audio, and high-res components are critical to the experience. However, if this equipment is too difficult to operate, you'll quickly begin to lose interest in your entertainment investment.

Consolidate Your Controls
Thankfully, there's a simple solution: a system that consolidates the controls of all A/V components into one single remote. Instead of juggling several clickers, pressing one button on your sleek Neeo remote can kick-start the entire home theater setup. Commands can even extend to equipment beyond A/V, as many home theater systems can be configured to command the shades, room lights, fiber optic "stars" on the ceiling, temperature settings, or even a motorized lift that rolls down a projection screen from the ceiling.

Indeed, much of a home theater's appeal has to do with special effects and the overall room atmosphere. The space should be inviting and welcoming, while also giving off a vibe of being a special area of your home where you can escape and envelope your senses with pure movie magic. When you combine whole-home automation and entertainment systems, you elevate your home theater experience while enjoying incredible peace of mind so you can relax and be swept into the magic.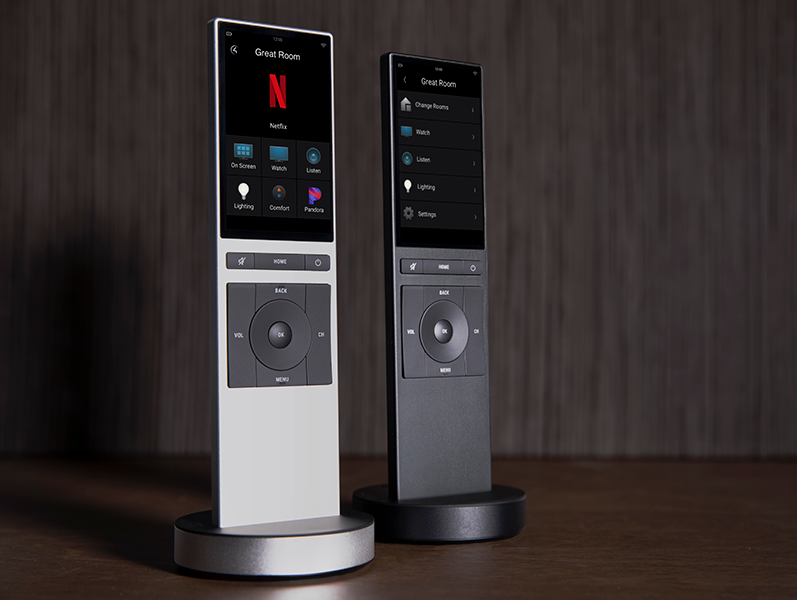 Set the Scene
We all know displays look brighter and more vibrant in a dark environment. It's the same in your home theater. Under the command of a home theater system, the lights in your home theater can fade slowly to black when you press play. If it's more comfortable, you can have some of the lights—like step lights—stay on at a dim level so that latecomers can see their way to their seats. When the movie is over, the lights can slowly ramp up.

To these basic settings, you can add an "Intermission" scene that lights a pathway to the refreshments and bathroom; a "Clean-up" scene that puts the lights on at full brightness so you can see every popcorn kernel, and a "Game Time" scene that keeps the lights closest to the screen on so that gamers can see their controls.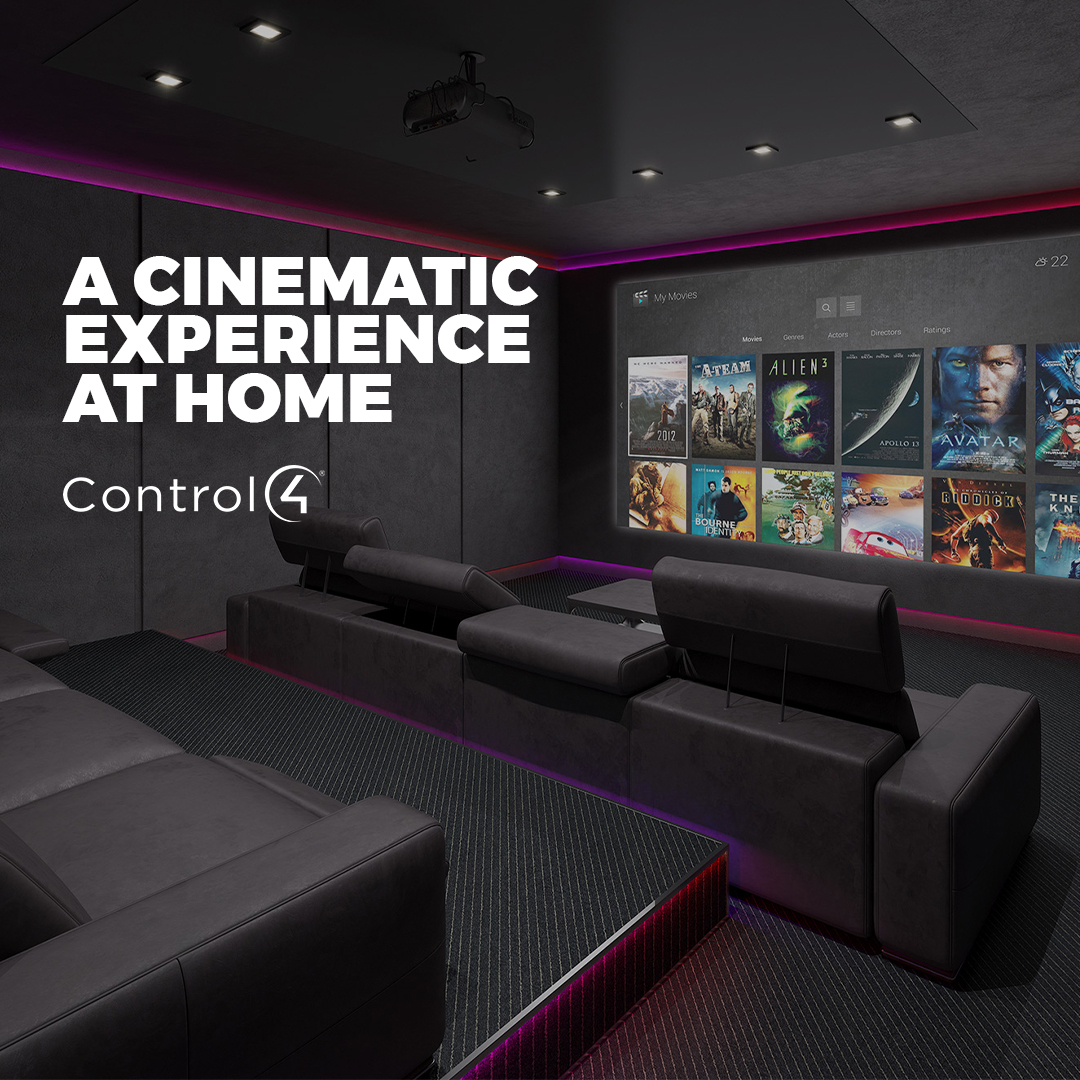 Curb the Interruptions
It's natural that you might get interrupted during a pivotal plot twist when viewing a movie at home. Someone might ring the doorbell or you might hear a commotion in the kitchen. When a home theater system is tied to surveillance cameras, you can see what's happening without leaving your seat. Views from the cameras can be transmitted to a portable touch screen, the screen of your television, or even to your smartphone. If you're using a Control4 Touch Screen to control your home theater, you could even use an app like Intercom Anywhere to speak with family members around the house, visitors at the front door, or even lock the front door without ever leaving your seat.

Share Your AV Sources
It's a shame to sequester all of that audio and video goodness to one room. Many home theater systems are capable of transmitting A/V signals from the home theater gear to displays and speakers in other rooms of the house. You'll get more bang out of your home theater buck and never miss a second of the movie action. Whip up snacks in the kitchen, host outdoor movie night on the patio, retire to the master bedroom—with multi-room audio and video you'll be able to enjoy entertainment throughout the entire house.
____________________________________________________________
Interested in Control4 for your home? Fill out your information in the form below to learn more!
____________________________________________________________
We take your privacy seriously and we promise we won't spam you; please see our privacy policy for details. By submitting your information, you are confirming that you are 18 years of age or older.
Thank you
ENTERTAINMENT