Focus on the Flow: How Gary Nance Brings Together Functionality and Beauty in Design
By
Jamie Corpuz
| Posted October 10, 2018
When it comes to designing with the surroundings in mind, no one does it better than
Gary Nance
. Based in Indianapolis, he is an award-winning architectural designer who has been featured on the cover of several Better Homes and Gardens publications, in Indianapolis Monthly and the Indianapolis Business Journal, and much more. His background in commercial design led to his signature approach of creating living spaces based on flow and client lifestyle. He designed the 2016 Indianapolis Monthly Dream Home, and most recently was the architectural designer for the Geist Reservoir Home, which was the CEDIA Awards' top honor for "
Integrated Home of the Year 2018
" in North and South America for outstanding integrated system design. We asked Gary about his experience as an architectural designer, where he finds his inspiration, and how he works with others to bring his vision to life.
What inspired you to get started in the industry as an architectural designer?
I'm one of these lucky people who knew all my life this is what I wanted to do. I would always play with those colored blocks to build buildings and then, when I got older, I would sketch funny houses. I could just never sit and watch TV—I had to always be doing something—so I sketched. When I was in grade school, I would even get the house plan magazines and walk myself through them to see if I could make them better. My hockey coach was a prominent builder in town and once he saw my talent for drawing, he started having me draw houses for him and a lot of my money made in college was designing homes for local builders. I was in a creative department at a commercial design firm for my first job out of college as part of the design team before I went out on my own. After I moved to Indianapolis with my wife to start a family, I switched from commercial design to residential.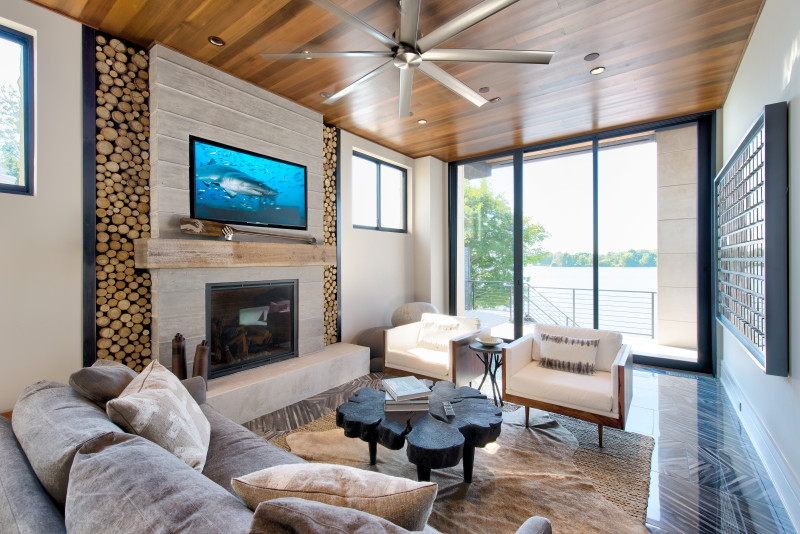 How would you describe your architectural design style?
Having a background in commercial building I think makes me more attune to doing space planning more efficiently. I was used to laying out law firms, dentist offices, hair salons and that taught me to think about flow. Now when I approach a home, I focus on the flow that fits my client. For example, with the Geist Reservoir Home, there is a lot of design you don't see: storage with functionality. The client is relying on me to not only make their design come to life but having a livable design as well. I do a lot of a lake houses, so I think through the flow of someone coming up from the lake and needing to go to the bathroom with the sand and where the towels would go and where the grill is and the groceries need to be set. I think about how people function in a kitchen based on each client I'm working with, whether it is as an individual, a couple, or a family, and then I build the bones with that in mind. Sometimes I come up with the finishes, sometimes it's another designer or a collaboration. Part of my business is being a concierge, so to speak, to the clients. They can come to me if they need to go to Chicago and tour the Mart or need a meeting set up with the plumber, electrician, framer, etc. I want my clients to have as stress free of a home building experience as possible.
How and why do you integrate smart-home technology into your designs?
I rely on my smart-home experts at
The Premier Group
to incorporate smart-home technology into my designs. As home technology experts they work with my home design and make the technology flow and function seamlessly. And they make it look incredible! Everything looks really built-in and polished
.
I wouldn't want a switch somewhere random or a thermostat on a grout line, so it is great that they can figure out how to hide the blinds, make sure there is enough space for the equipment, and tuck everything away. I most often use smart-home technology in my designs when my clients want to be able to
access their homes remotely
. With home automation, they can be in control of their homes no matter where they are—if they are on their way home from the airport after a long trip, they can remotely turn on on the floors, heater, TV, and get the home ready for when they arrive. With one push of a button, they can turn on or off their home.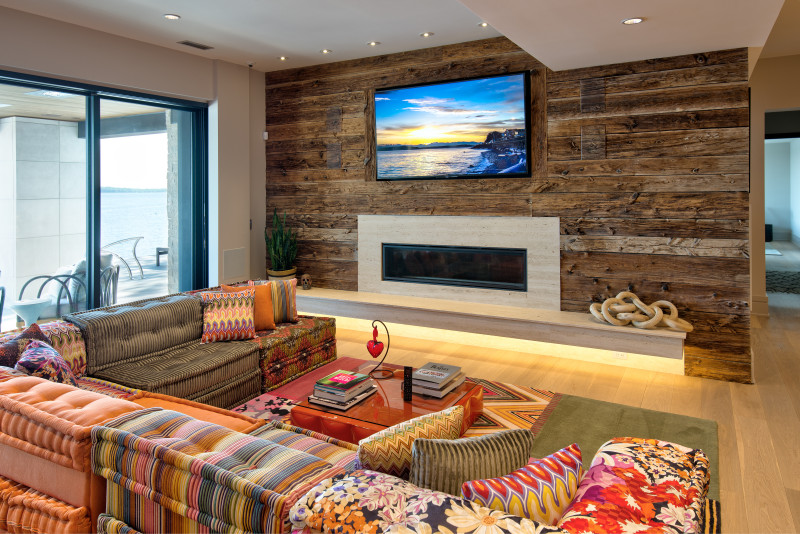 Where do you find your inspiration to keep your ideas fresh?
I do a trend research in the Wall Street Journal, there is a design section every Friday, and I also get a few high-end design magazines to keep myself fresh. In addition, I find a lot of inspiration in fashion, sports, and house magazines with the beautiful ads. Movies are also an inspiration. For example, one client wanted a home like the one in
Something's Gotta Give
, so I watched that movie over and over to give the client exactly what they wanted. Another time, a client was wanting a unique bunk room, and I had just seen
The Orient Express
, so I fashioned the bunk room after that.
How do your clients contribute to your inspiration?
A lot of clients travel, so I get inspiration from traveling to connect with them. When a client travels a lot, it becomes part of their personality, and I think it is important to cater to that. I had a client that didn't want the same old builder house—she wanted a mix of a classic southern colonial and a Parisian townhouse. It was based on two locations she loved, a home in Mississippi and a hotel in Paris, and so I took that inspiration and combined those two looks. It was a fun challenge, and it turned out really well.
_______________________________________________________
WANT TO LEARN MORE ABOUT HOW CONTROL4 FACILITATES BEAUTIFUL SMART-HOME DESIGN?
CLICK HERE
.
Interested in living the smart life in a Control4 Smart Home?
Fill out the form below and we'll send you more information.
We take your privacy seriously and we promise we won't spam you; please see our privacy policy for details. By submitting your information, you are confirming that you are 18 years of age or older.
Thank you
Category
BUILDING & DESIGN