Let's Get Wired!
September 25, 2017
If you're building a new home and your wish list includes overhead music throughout the house, distributed video in your favorite rooms, a robust networking platform to let you stream to your heart's content, or you're going full bore with a whole-home automation system—it's absolutely critical that structured wiring is a part of your grand plan.
Looking to wire up a pre-existing home? While it may prove to be a bit more work, it's still very common and just as important as wiring a home in the new construction phase.
Regardless of whether your house is new or pre-existing, wiring that is done correctly can save you time, money, and frustration. Whether you choose to run the wires yourself or hire a pro, here are some tips to help you get started.
CONSIDER A 10-YEAR PLAN
Will the wiring that you install now still work for you in 10 years? Think about the devices that you may want to add to your house through the years.
START WITH A FLOOR PLAN
Pencil in where your devices will be installed (from streaming devices to smart lighting keypads) and what types of solutions you'd like in each room. Do you often use your family room to listen to music and watch movies? Would it be beneficial for you to control and manage the entire house from the kitchen while making dinner? Do you want to communicate via audio or video from room to room? Think about what would make life easier and more enjoyable, and jot down the touchpoints.
MARK YOUR WIRING AND OUTLETS
On your floor plan, mark where the wires will run and where wall outlets are located in the rooms you will be automating. Which devices will require an Ethernet cable and which will require a coaxial cable? Which devices will be wireless? An audio/video technician, such as a Control4 Dealer, or your builder or an electrician can help with this.
RUN SPEAKER WIRE TO ROOMS THAT WILL RECEIVE MUSIC
Speaker wires should be a minimum of 16-guage wire and no more than 300 feet (about 91 meters) in length. Be careful not to run the speaker wires too close to power wires to avoid interference.
RUN ALL WIRES CONSISTENTLY TO EACH ROOM IN THE HOME
At a minimum, your "structured" wiring will consist of two pairs of unshielded twisted pair CAT5e or CAT6 cables for Ethernet connections, and two coax cables. The coax cables provide downstream and upstream signals for cable and satellite channels. The Ethernet cables support up to 100 Mbps for your networking devices.
FOR A PRE-EXISTING HOME, USE THESE WIRING METHODS
Ethernet and coax cables will need to be run to each applicable device. The Ethernet cable needs to be attached to devices that require a network connection—like home automation controllers, touch screens, or door stations. However, thermostats and lighting can use their existing wires. Coax cable needs to be attached to a TV or other device that requires this cable type.
Some devices don't require wiring at all, and instead operate on a wireless connection—such as automated locks and motion sensors. If running speaker wires isn't an option, wireless speakers can also be used.
NOTE FROM A PRO
"Wireless has come a long way, and we use it in almost every smart home and audio/video system we install, but we still want the wire to do the heavy lifting. Think of it like trucks vs. cars. The wiring can be compared to trucks—it does the heavy lifting. For example, carrying 4K video content, hardwiring the network into your TVs, delivering high-resolution audio to your speakers, etc. Wireless, on the other hand, we compare to cars—it does the light work. Lighting and climate control, and door locks are an example of that. We want a combination of both in the homes we install, but most certainly wire."

Matt Montgomery, TYM Homes

For more articles, tips & tricks, and inspirational stories,
download your FREE issue of Home Smart Home Magazine today.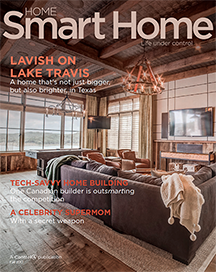 ENTERTAINMENT