The Coolest Products at CEDIA
September 14, 2012
We had our Dealer Tools Product Manager, Miguel Perez, walking the floor of CEDIA so that he could share with us the coolest products he could find. Here is his summary:
The Best of CEDIA. (At Least in My Mind)
I love technology. I am a geek 100% of the time. You couple my love for technology and a show like CEDIA, and you get one happy guy, (basically a kid at Disney World).
However, CEDIA is hard work. CEDIA = weeks of preparation, partner meetings, conversations with dealers, demos, and packing and unpacking the amazing Control4 booth (a story for another day).
So, you might be asking, why do I like CEDIA? It sounds like a nightmare. Well, while working hard, I had enough time to walk the show floor looking at all the products and companies that were displaying the best of the best they have to offer. Besides, this is what window shopping for a guy is all about. Not only can you look for the next toy, but you also get educated with enough information to go back home and convince your wife that you really "need" that 128 thousand dollars projector that is the size of a mini cooper.
Control4 and Control4 partners had the most amazing products at the show. I mean, we won two awards for our butt kicking controllers. We even had a voice control device that takes voice commands to execute
Control4 functions from HouseLogix
.
But outside of the Control4 universe, there were hundreds of products that were amazing. OK, not all of them. I can tell you all about over-sized booth, crappy products, imitators, but I don't want to turn this post into a negative one.
Without further delay, here is my list:
1. VRX and D-Box Racing Simulator. This is a 3D, surround sound, feel every detail of the game, super toy that I want right now. However, price tag is going to set me back for a while (28K+). Check it out: www.vrx.ca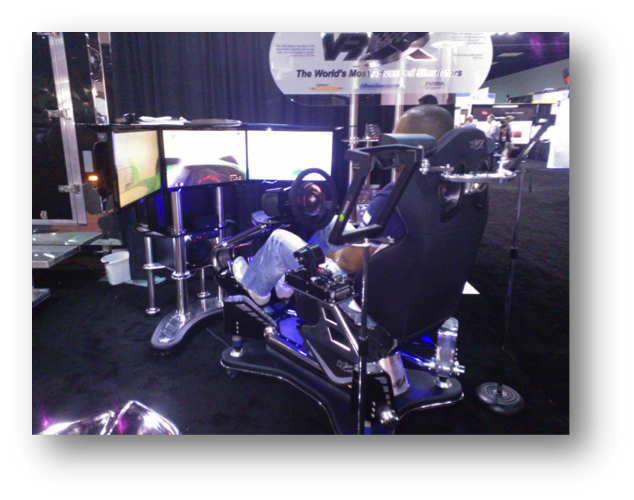 2. Speakers. There were so many speakers at CEDIA. I mean, you could not turn your head in any direction and not see a speaker manufacturer. However, while walking and listening to so many different sounds coming from so many different areas, the two companies that surprised me were Waterfall and SONOS.
Waterfall. These speakers are small and beautifully designed. However, don't let the appearance fool you. The sound is crisp, undistorted, and really loud. I don't know price, but here is the website and a pic:

http://www.waterfallaudio.com/

. Plus, a little video I found in YouTube.

http://youtu.be/0JqUgLQBMD4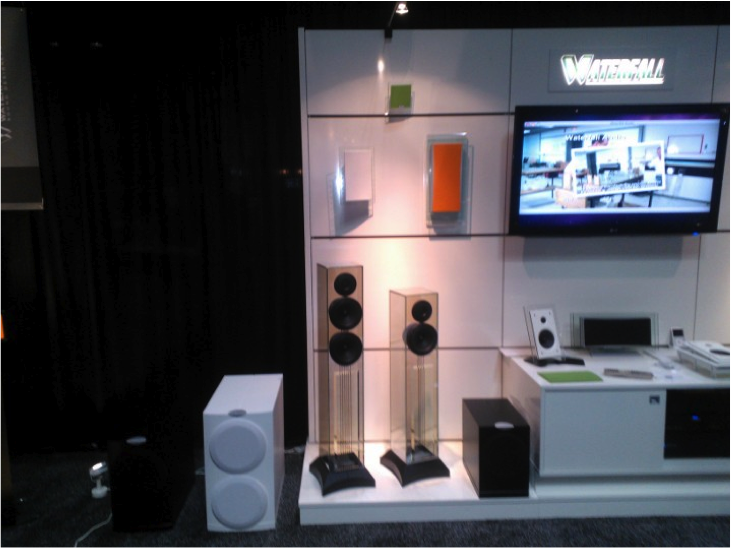 I think I can afford two pairs: http://www.amazon.com/Waterfall-Audio-Niagara-Standing-Loudspeakers/dp/B002BSH27I/ref=sr_1_1?ie=UTF8&qid=1347384005&sr=8-1&keywords=waterfall+speakers
SONOS: I've never been a big fan of SONOS. That all changed when I was walking back to the hotel room after the show on Thursday night. SONOS was testing a sound loop designed for their new wireless subwoofers. WOW!!!! I could not believe my ears. Imagine the sound from this generic video x 5 wireless subwoofers running at the same time. http://youtu.be/l2KP2KUAE1I.
Projectors: There were as many projector companies as there were speaker companies at CEDIA. However, one projector caught my attention. I hope this picture shows how big this thing is. http://www.sims2.com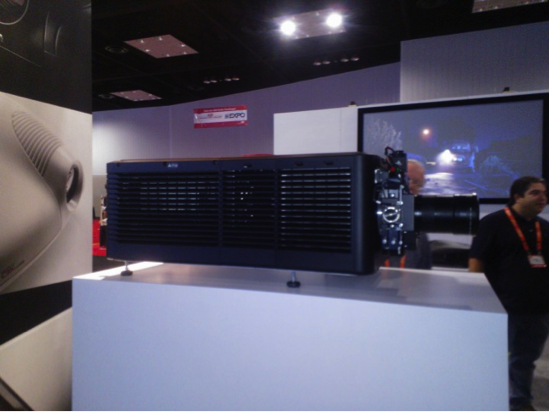 This is a Quad 4K projector boosting a resolution of 4096 x 2160 with 20000 lumens. SIM2 is the company responsible for this mini-cooper size of a projector.
Anyway, see you next year and until then check Control4 and partner products at our dealer website dealer.control4.com.Remember my comment above about educating yourself so you can convince your wife about buying these toys at CEDIA. It is not going to work on this unit. It is only $158,000.00 dollars. I tried!
Category
COMPANY