78 Home Automation Ideas
October 18, 2019
Home automation is much more than a one-trick pony. When you build on a strong foundation, such as an advanced operating system that powers your whole home, the possibilities are endless. We could list home automation ideas all day long (and you'll find many of them in our idea gallery), but here are 78 to get you started, plus 5 BONUS Voice Control ideas that are sure to get you talking!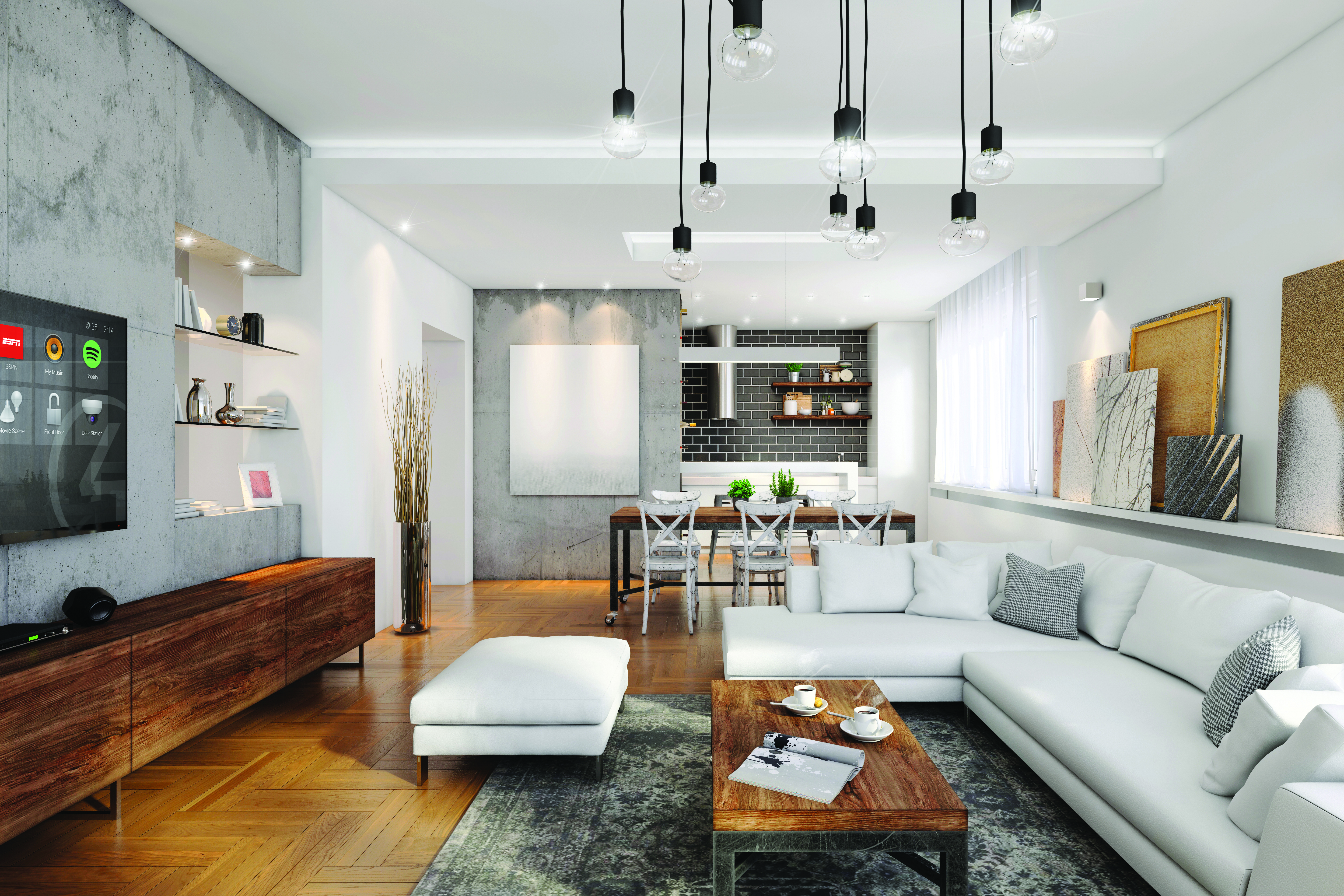 SMART LIGHTING IDEAS
1. One button press turns on all lighting for a given room or floor, not just one light.
2. Double-tap the same button to turn everything (lighting, electronics, devices, etc.) in the room off.
3. Lights flash in your garage when someone rings the doorbell.
4. When then garage door opens after dark, the outdoor lights leading up to your door and just inside the house automatically turn on.
5. Motion sensors in critical areas can signal the automation system to switch off lights when a room has been vacant for some time.
6. Landscape lighting can turn on automatically at sunset and off again at sunrise.
7. A "Bedtime" scene can set bedside lamps at a level just low enough for comfortable reading.
8. With the touch of an "All Off" button, all of the lights in your entire home turn off.
9. Midnight snack – just enough light to make your way to the refrigerator and back without disturbing family members.
10. Motion sensing – At night, when motion is sensed, ramp lights to 15% (just enough light to see, not to be blinded).
11. Turn off lights automatically each morning when kids leave for school.
12. If the natural light in the room is less than 50%, lights adjust to 50%. If natural light is less than 40%, lights increase to 60%, and so on. This helps for when the shades are drawn, or on a cloudy day in the middle of summer.
13. Landscape lighting – have the lights come on brighter at sunset, and then dim to 20% at 11pm to conserve energy.




SMART MUSIC IDEAS
14. Stream music to every room in your home, with a dedicated keypad place in each room.
15. Push all of your stored music throughout the home via distributed audio zones accessed through your smartphone, keypads, and touch screens.
16. Tap a button on a keypad to activate a zone of music. If you tap the music, it can change the LED to an assigned color for each family member (with their favorite playlist/settings).
17. Double-tap the volume button to turn off an audio zone.
18. Music starts automatically in the bathroom when you turn on the shower lights.
19. Install a touch screen behind a waterproof wall mount in your shower to control music streaming in the shower.
20. Program your own "His and Her" audio settings. Time each to correspond with the time of day, designated keypad buttons, or audio zones.
21. Use your grand piano as an audio source, which can be played through your entire home's in-ceiling speakers.
22. Link your piano with your Control4 system, and the music can be heard anywhere in the world where you have access to your home automation system.
23. Create a "Music" scene, which sets the lights at 30% and volume at your preferred level – perfect for late-night focus while working on a project.

ENTERTAINING AUTOMATION IDEAS
24. A "Party" scene – create instant ambiance with the press of a button with lighting that illuminates key decorative elements and a customized playlist that starts up automatically.
25. Someone drop in unexpectedly? No worries. Get notified when guests arrive by broadcasting a chime through the audio zone's speakers where the party's at.
26. Incorporate microphones into the whole-house audio system, so you can broadcast presentations throughout the entire home.
27. Use your iPad to tell the refrigerator when you're out of ice, so it can ramp up production.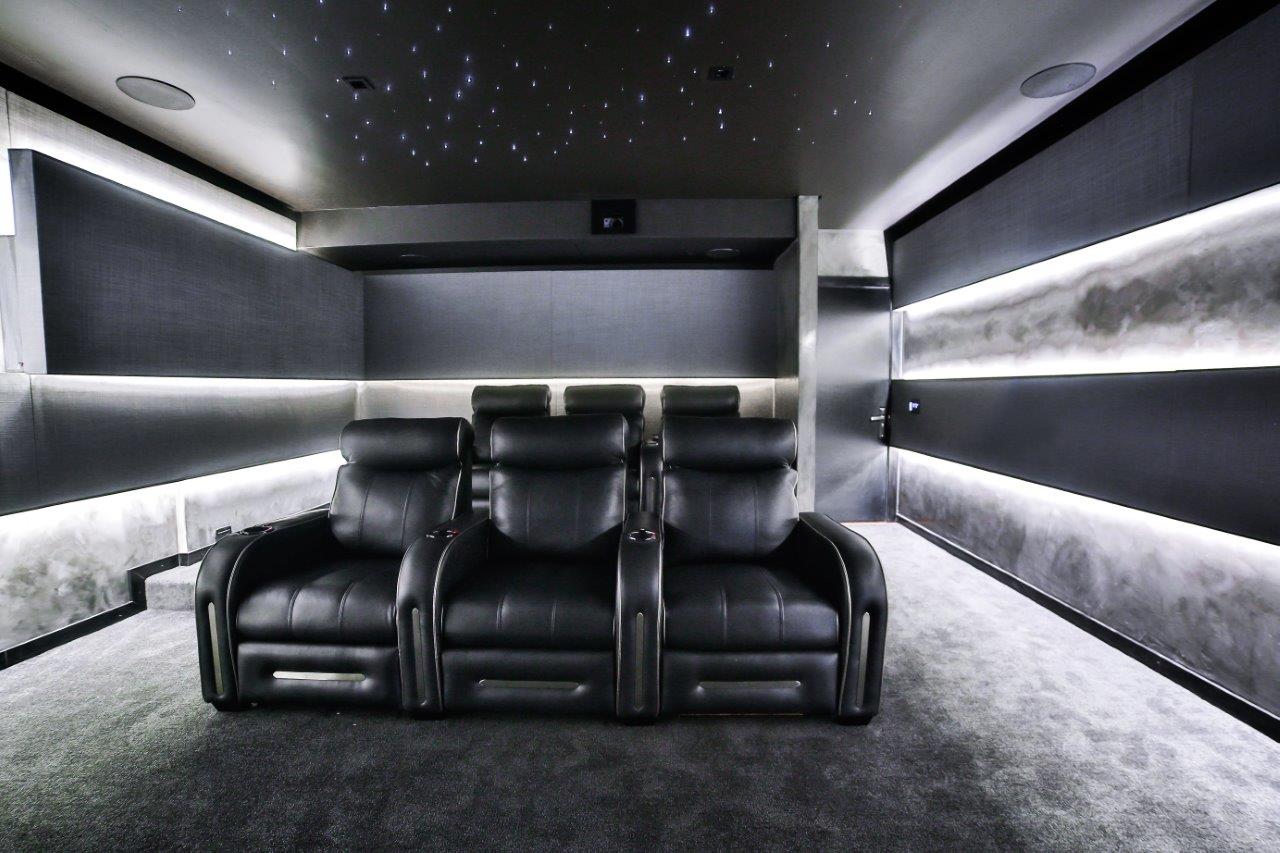 VIDEO/HOME THEATER AUTOMATION IDEAS
28. Remote finder – triple-tap a light switch, and your remote will immediately start beeping.
29. Automatically lock your home's front and rear doors when a movie begins.
30. When you press play, dim the lights gradually over 7 seconds.
31. When you press pause, bring the lights up by 30%.
32. With the press of a button, a TV ascends on a motorized lift from a cabinet, motorized speakers in the ceiling tilt downward, a surround-sound system activates, the shades close, and the lights dim.
33. Program your golf simulation room to double as a home theater.
34. Have every TV in your home automatically turn on to your favorite channel when you come home from work after opening the garage door.
35. Set the volume of a child's TV to a preset level.
36. A "Good Night" scene, which provides a push notification on your kids' iPad to turn off their TVs. The lights in each bedroom flash as a warning, and 10 minutes later, the TVs switch off automatically.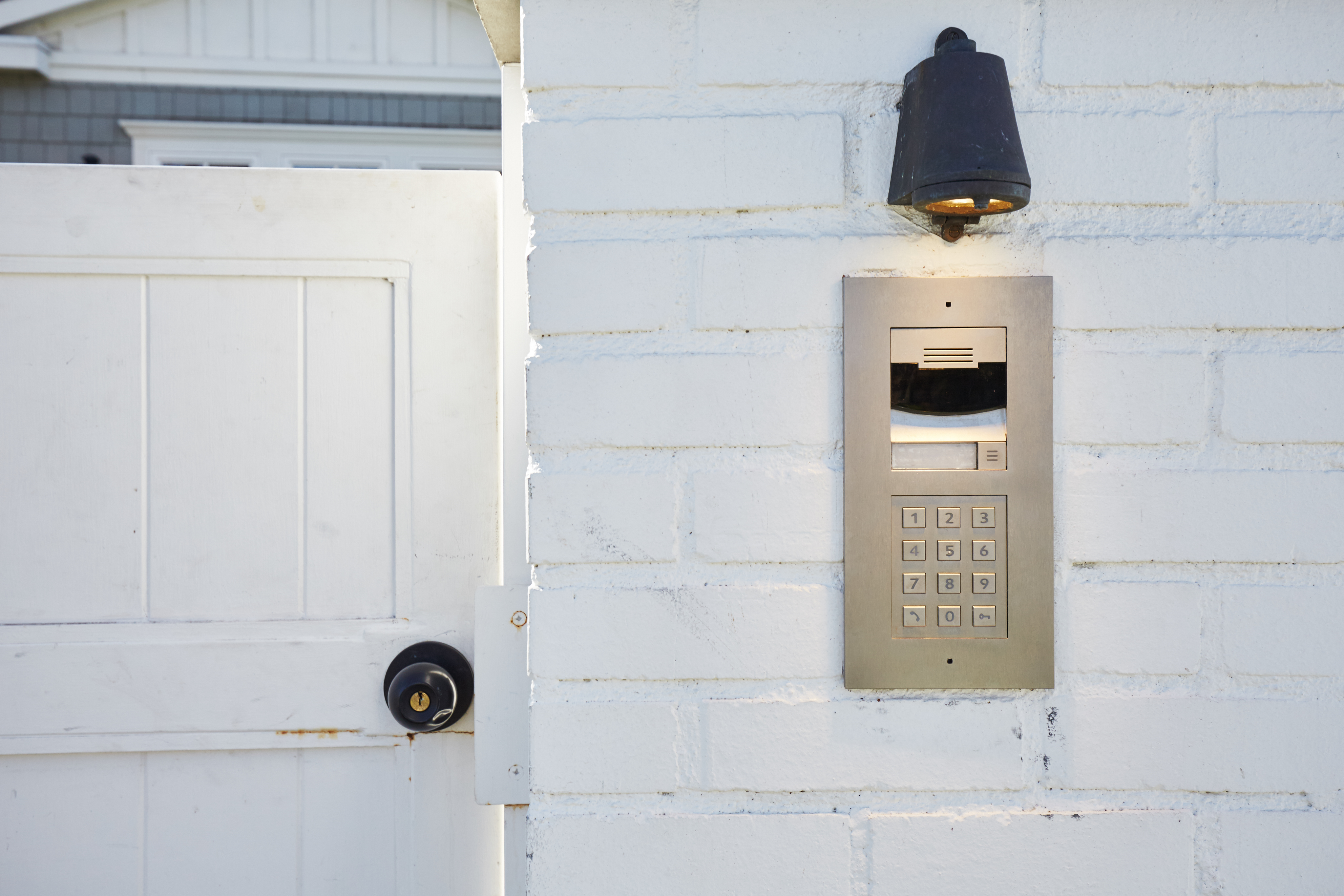 SMART SECURITY IDEAS
37. Automate your bedroom touch screen to see who's at the door when the bell rings from your front door or gate intercom.
38. When the doorbell is pressed, "Who can it be now" plays through speakers, the security camera rotates to the front door, the TV or movie is paused, and if it's night time, the outside patio light turns on from 20% to 75%.
39. Watching TV when someone rings the doorbell? Have an image from the surveillance camera appear on any TV that happens to be on, pausing the TV show or movie for 15 seconds.
40. Built-in alerts which will notify you if the front door is left open for longer than five minutes or if the front gate is ajar for longer than ten.
41. Access security video feed remotely from your smartphone, from anywhere in the world.
42. Receive a text when your security cameras detect motion.
43. Create a "Cat" scene, which will temporarily disarm your security system and trigger outdoor lights for the feline's nighttime sojourns outside.
44. Program the lights (including in the master shower) to flash three times when an exterior door opens.
45. If there's a security breach, program every light in the house to illuminate to 100%. Simultaneously, the front door automatically locks, the motorized shades open, and every TV displays views from all surveillance cameras.
46. Program strategically placed surveillance cameras to stream security video to select TVs and touch screens when instructed to do so.
47. "Mockupancy" scenes – lighting that is automated to make the house appear occupied when you're away on a trip.
48. Are you away, but want to give a guest access to your home? Create temporary access codes for your guests, which they can punch into your home's smart locks, notifying you of their arrival.
49. Create personalized entry codes for individual family members.
50. Set a timer that closes the garage door automatically if it is left open for longer than 10 minutes. A motion sensor can be used to keep the door open when you're working in the garage.
51. Driveway motion sensor – when motion is sensed, cameras go to home position and start recording, outside lights ramp up, and text message alerts are sent to smart devices.
52. Forget to lock your doors? – Program the doors to auto-lock three minutes after the garage door closes when you leave for work.
53. When the back door to the garage opens, turn on the inside garage lights if natural lighting is below 50%.
54. When the garage door is closed, and the motion sensor to the garage zone doesn't detect motion, dim lights to zero over 10 seconds, and lock the back door.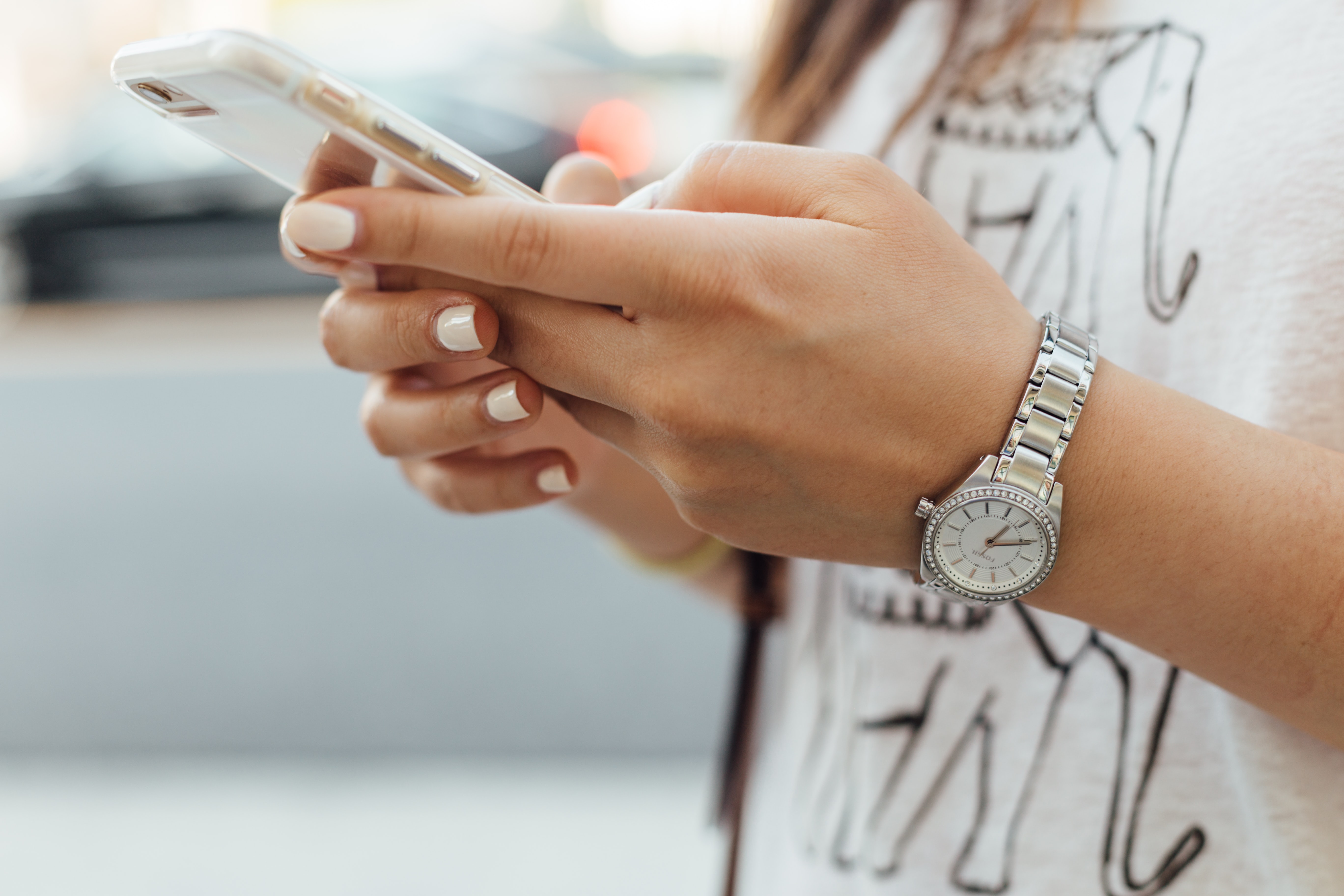 EVERYDAY ALERTS AND NOTIFICATIONS
55. Install a contact sensor in the mailbox. When mail gets delivered, the AOL theme "you've got mail" plays throughout the home, the LEDs on the lighting turn red, and text messages are delivered to smart devices.
56. Receive a text alert when a garage door is left open.
57. Receive an automatic text alert for a problematic event, such as a pipe leak in the basement.
58. Need to be reminded to take out the trash? Program a notification to appear on every touchscreen and mobile device at the same time once a week.
59. Get a notification on your smart device when the oven has preheated.
60. Instead of waiting up for teenagers to come home, automate your lights to turn on in your bedroom when they come through the front door. You can also set it up so that your phone notifies you when the door is locked again.
61. Get a text message or push notification when the kids get home from school.
62. Get notified when the liquor cabinet has been opened.
63. Receive a notification when motion has been detected in a specific room (such as your home office or the wine cellar).
64. Receive email or text notification reminders when it's time to take medication.
65. Reminder notifications for HVAC filter, Central Vacuum yearly filter, etc.

LUXURIOUS AUTOMATION IDEAS FOR DAILY LIFE
66. A keypad on your wall by your entry that starts music streaming or your favorite TV station in the kitchen when you arrive, all with one touch of a button.
67. Create a customized scene when a specific door lock code is pressed. For example, if a family member's door lock code is pressed, turn on a favorite TV channel and set volume automatically to 50%.
68. Heated towel racks that kick in at a set time for those early morning showers.
69. Floor heating based on outdoor temperature: Put a remote temperature sensor in the attic of the garage. Between 4 am & 9 am, if the garage temp is below 40 degrees, turn on master bath floor switch (heat), set to automatically turn off at 9am.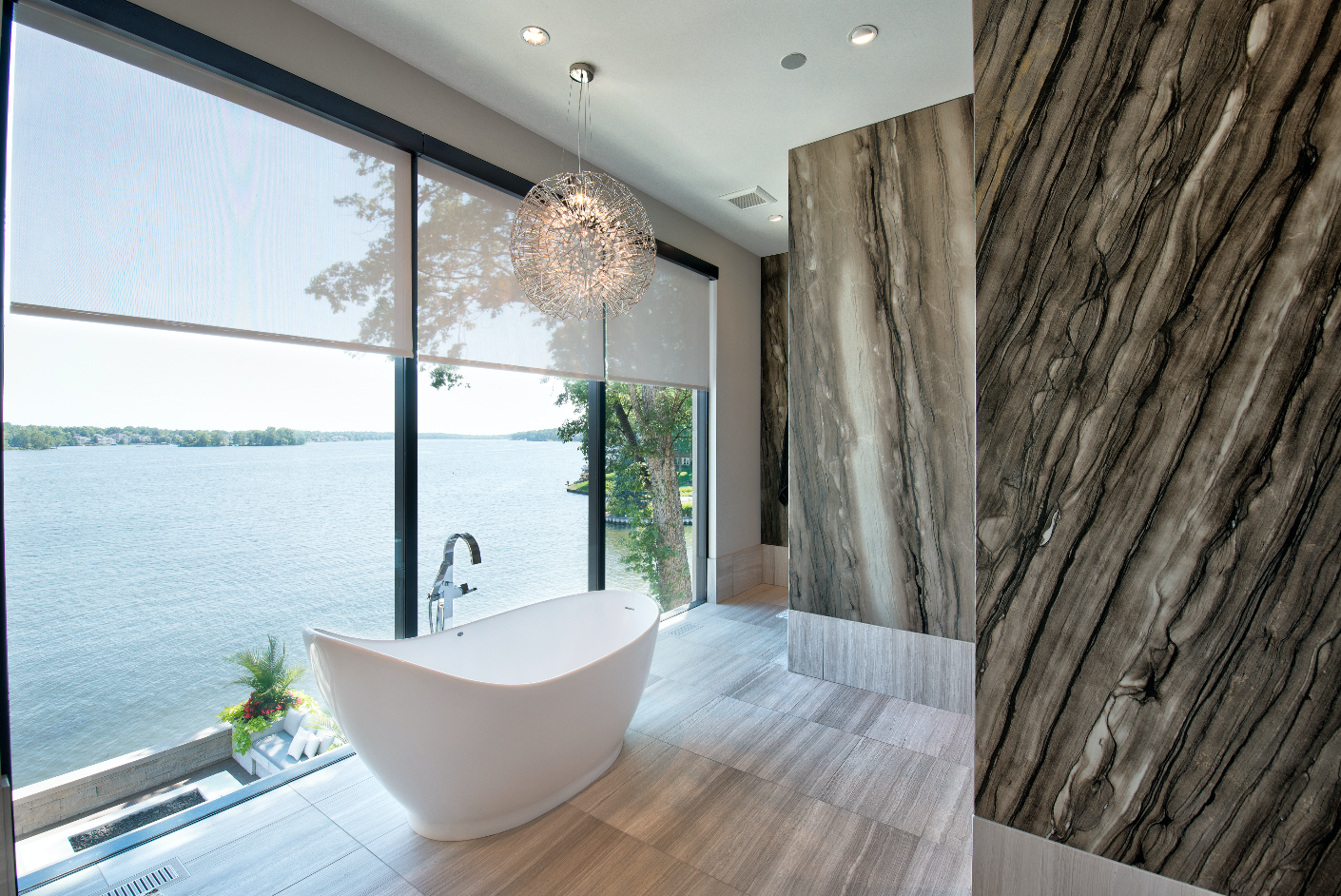 CLIMATE CONTROL IDEAS
70. Program shades and drapes to open and close automatically based on the position of the sun and home occupancy.
71. "Wakeup" scene that opens the curtains, gradually raises lighting over five minutes and sets the temperature to your preferred level.
72. Automatically turn down heat when you leave for work in the morning.
73. Light the fireplace using your smartphone or tablet without leaving the couch.
74. An "Exercise" scene that lowers the temperature for a workout, even turning a TV to a favorite station or starting a customized music playlist.

ENERGY-FRIENDLY AUTOMATION IDEAS
75. Implement an energy management system that continually monitors the current energy production of your home's solar panels.
76. Measure your entire home's energy consumption, circuit by circuit, automatically with your home automation system.
77. Automate your home's lights to never be at full brightness.
78. Set sprinklers and lawn systems to respond automatically to weather conditions (so you're not watering the lawn on rainy days).

BONUS: 5 VOICE-CONTROL IDEAS
"Hey Google, good morning" brings lights up gradually, starts a mellow playlist, turns on kitchen lights. Now you're ready to start the day!

"Alexa, turn on party time" drops disco ball from the ceiling, starts up LED color changing lights, turns your favorite party playlist up at max volume.

Queue the movie, even when the remote is lost in the couch cushions. A voice command can start up the Blu-ray player, dim the lights to 30%, draw the shades, and set the perfect ambiance for enjoying movies!

Need a few more minutes of sleep? "Echo, turn on Sleep In" can close all the shades, lock the doors, start a relaxing playlist, and help you get that extra hour of beauty rest.

In a hurry? "OK Google, time to go." flashes the lights in the kids' rooms, blasts an annoying fog horn noise, and lets them know that it's time to get their shoes on. Now.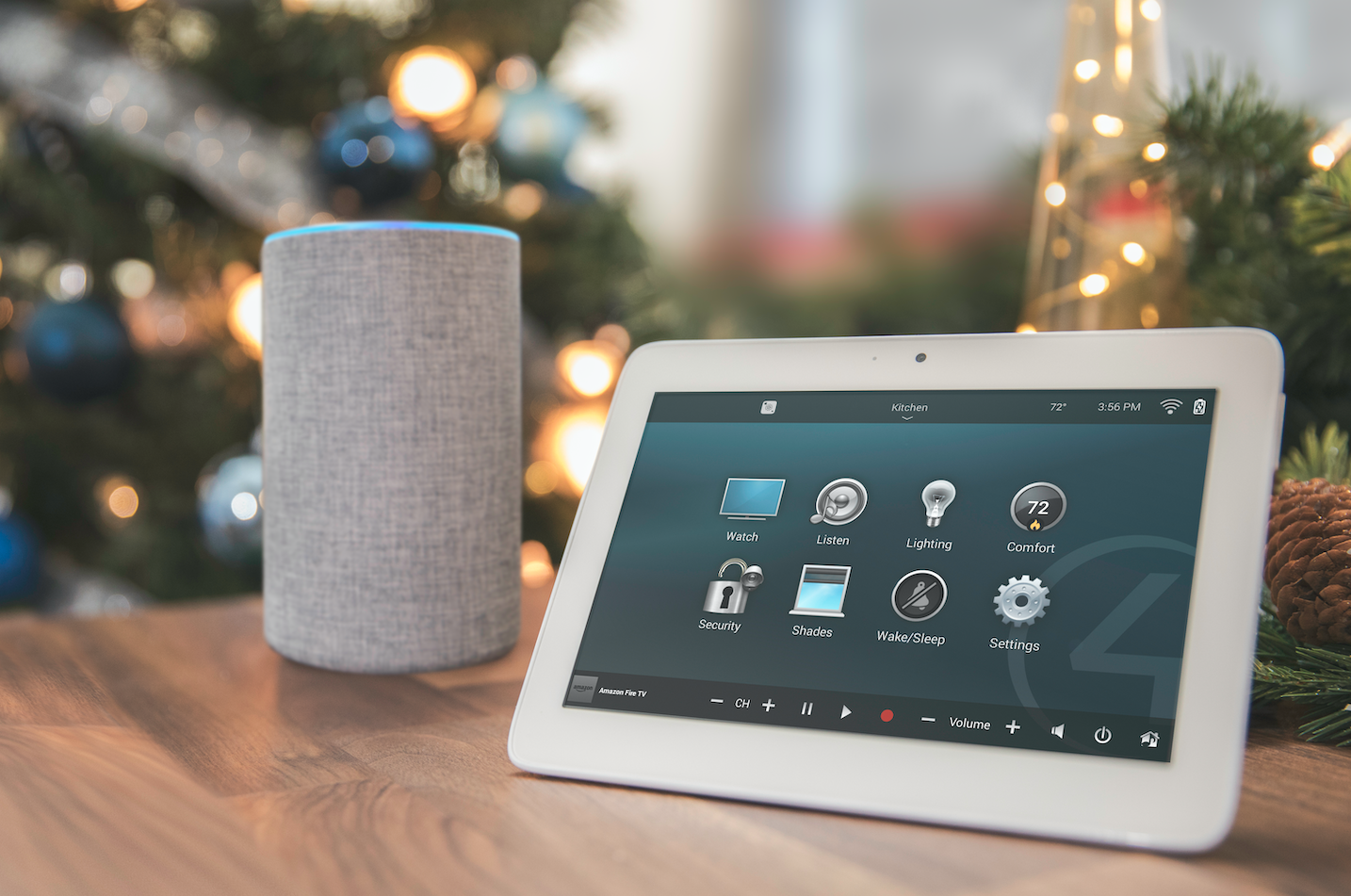 FIND A CONTROL4 AUTHORIZED DEALER FOR EVEN MORE HOME AUTOMATION IDEAS
Our Control4 Authorized Dealers are true experts in their field, and there's no better source of information for some really fantastic home automation ideas tailored to your lifestyle. Find a dealer near you to get started today!

---
We take your privacy seriously and we promise we won't spam you; please see our privacy policy for details. By submitting your information, you are confirming that you are 18 years of age or older.
Thank you
SMART HOME TRENDS