| | |
| --- | --- |
| | Intercom basics |
Whether you're at home or away, stay in touch with your entire household with the Control4 intercom system.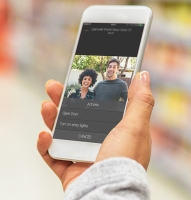 Your Control4 intercom has features that let you monitor and communicate easily with all of your intercom-compatible devices.
Note: The information in this guide applies to the latest Control4 system capabilities. Features can vary between customized installations and Control4 software releases, so contact your Smart Home Pro with any questions about available features.
Answer the door with your smartphone or touchscreen

Broadcast a message to...

your entire home
a group of rooms
a single room

Monitor your child's room
Change intercom device settings
Add, edit, or delete intercom groups
and much more!
In this section, learn to send intercom messages, add smartphones and tablets to your intercom system, adjust your call/answer settings, and create intercom groups to send messages to several rooms at once (such as the main floor, kids' rooms, and play areas).
To set intercom as a favorite in a Room screen, see Creating favorites.
Intercom system requirements
To begin using the Control4 intercom system, your home must have at least two intercom-enabled devices (examples below), as well as a 4Sight subscription.
Intercom-compatible devices
Control4 intercom-compatible devices include video doorbells and touchscreens.
Video doorbells are installed next to an entrance and include a security camera, two-way intercom, and doorbell. A DS2 door station may also have a numbered keypad (optional). With a video doorbell, you can screen visitors, answer a door remotely, and require visitors to enter a security code upon arrival.
If you have a Control4 video doorbell, answer the door remotely with your smartphone.
A Control4 touchscreen is used to control your automated home and to make and receive intercom calls. A touchscreen can be:
A T3 or T4 Series touchscreen (or newer). You can make intercom announcements and calls from your smartphone to a touchscreen.

Mobile Apple device (smartphone) with the Control4 app installed, or a mobile Android device with the Control4 app installed. To set up the intercom for use on a smartphone, see Setting up intercom on a mobile device.

Tip: Ask your Smart Home Pro if the devices in your smart home are compatible with the mobile apps.