Luma x20 Quick Start - Using OvrC
Using OvrC can get your Luma x20 NVR up and running in minutes—installs have never been easier!
Claim the Gear
The Luma x20 line integrates seamlessly with OvrC.
Before you claim your NVR, first attach it to the network, then connect all cameras that will be wired directly to NVR ports. Once that is done, power everything up (the NVR beeps when powered up, and beeps three times when it finishes booting).
Claim the NVR
If you have an OvrC Pro device in your network (an OvrC Hub, Araknis router, or Control4 Controller), your OvrC device automatically claims your x20 NVR as soon as it is connected to the system.
If you do not have an OvrC pro device, claim your NVR manually using its MAC address and service tag number.
What Happens When the NVR is Claimed?
OvrC automatically activates the NVR. This creates a SuperAdmin password for the NVR that Snap One Technical Support can use for emergency recovery. This password is not visible to anyone else, but can be reset using the Luma View app.
Activation also creates two unique passwords:
SupportAdmin: Use this password to connect to the NVR's web UI.

SystemConnect: Use this password for control system integration or for external systems like a third-party VMS. It does not provide access to the web interface.
These passwords match across all devices that OvrC Pro claims for your system.
Since your passwords are generated automatically and randomly, your system is already secured, and you can immediately begin customization.
Fetch the NVR's Cameras
In OvrC, go to the Devices tab, then click the NVR to go to the NVR's Details tab.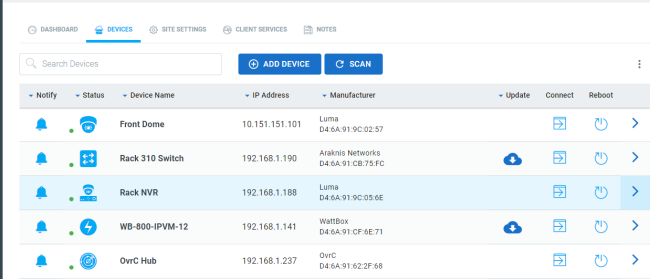 You'll see the message Loading… under the Linked Cameras and Unassigned Cameras sections as OvrC scans the network for all available cameras that can connect to the NVR.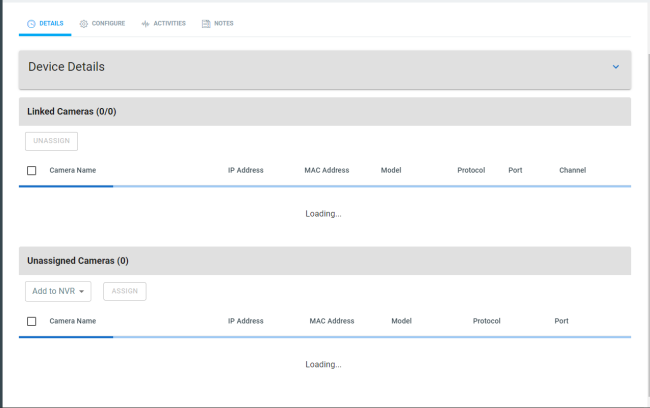 Once OvrC has finished scanning, it populates camera data, including a dot to the left of each camera to show its status.

Linked Cameras: The top section shows all x20 cameras connected to the NVR's PoE ports. X10 cameras also show, but with less information. Third-party cameras using ONVIF should also show. OvrC activates all cameras in this section and sets them up with the same passwords that the NVR uses.

Unassigned Cameras: This section shows all cameras connected to your network that can connect to the NVR. Cameras here are either third-party cameras, older Luma cameras, or x20 cameras attached to a network switch.
Pro Tip: -_If a third-party camera is not showing up as expected, manually add it using the NVR's web interface. Luma x20 NVRs are ONVIF conformant.
Adding Unassigned Cameras to the NVR
When adding cameras that have a password that matches the SupportAdmin password on the NVR, click the selection box next to the cameras, ensure "Add to NVR" shows in the dropdown, and click Assign. The cameras move up to the Linked Cameras section.

When adding a camera that does not share the NVR's password, select the camera's checkbox, and change the dropdown to "Add to NVR with Credentials". Where prompted, type the username and password for that camera, then click Assign. OvrC processes the transaction, and, after about 10 seconds (time enough to communicate with the OvrC servers), the screen displays the change.

The dot next to an added camera may show red (offline) for a short while. If it still shows red after 30 seconds, refresh your screen. If it still shows red, you may need to do some troubleshooting.
Removing a Camera
You can unassign a network camera listed in the Linked Camera section. Click the camera's checkbox and click Unassign at the top of the list. It takes a few seconds for OvrC to update the screen with the change. You cannot unassign a camera that is plugged into the NVR itself; you can only remove network cameras.

Finalize the Setup
Now that the NVR has been activated and the cameras claimed, your system is fully operational. Your NVR is set to record all cameras around the clock. But that's not what most people want.
Perform Maintenance
If your NVR or cameras have a cloud icon under the Update column, click that icon to start a firmware update. Update your NVR's firmware first and ensure the device is back online before initiating any camera updates.
Choose a Recording Schedule
You do not need to change your recording schedule unless the install has very specific needs.
Activate Motion Events
Your NVR is already prepared to record whatever the cameras send, including motion and AI events (area intrusion, e.g.), however you must set those cameras to use events, rather than record 24/7 (which consumes a lot of disk space). For this quick-start, we'll just set up motion events.
From the NVR's Details tab, click on the camera's name in blue. Alternatively, click the camera in the OvrC Device list. Either way, you are taken to the camera's Details tab. Click on the eye icon in the area labeled Activity Zones. Check that the entire camera view is covered with a green grid.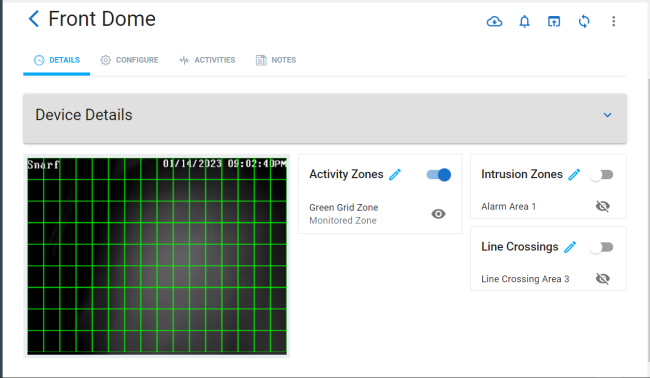 At the top right of that box, flip the toggle to enabled. Motion detection is now activated, and the camera switches from recording 24/7, to recording motion events 24/7.
Customer Handoff
Once you have performed any additional customization, it's time to hand the system over to the customer. The customer handoff process gives the customer access to the Luma View app on their mobile devices, and puts their surveillance privacy under their control.
Invite the Customer
In the Customer page, go to the Settings tab. It opens into the Manage Access section.

Click + Invite User.
The dialog loads with the customer's email (if possible, otherwise you need to enter it).
Click all the apps they need for their install (we recommend all).
Click Send Invite.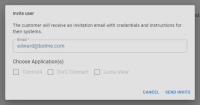 The customer then appears on the Manage Access page with the status "Validating."
What Does the Customer See?
OvrC sends an email to the customer welcoming them to OvrC Connect and Luma View. This email gives them instructions as well as a six-digit code that serves as their temporary password. Once they log in to OvrC Connect and change their password, they'll be able to download Luma View and connect to that, as well.
Once the customer registers, they get immediate access to and control over their system.
Video Decoupling
24 hours after handoff, you (as an installer) lose access to live video and recordings. This video decoupling provides your customers with privacy and protects you from legal exposure. You can still monitor the hardware itself, allowing you to perform maintenance on your customers' systems.
If you need access to video for maintenance or upgrades, you can request access for a limited time.
To request access, go to the customer's Settings tab and click Request Surveillance Access. Choose the duration, and click Send Request. This sends the customer an email that includes a link for them to grant you access.
Once you finish your maintenance, go to the Settings tab and click Disable Access.
Here's a short video of the process.
Which features are restricted after handoff?
The following are restricted after handoff:
OvrC > Device Details > Live Image and Event Settings

OvrC > Configure > Image Settings > Live Image and Image Settings

OvrC > Configure > OSD Settings > Live Image and OSD Settings

OvrC > Configure > Credentials > Device Credentials

OvrC > Web Connect > the Web Connect icon
As always, if you have questions about these features, please reach out to Technical Support. If you have feedback on this new feature, please let us know if our Tech Community forums!