HOW THE WEST WAS WON
May 5, 2018
LOCATION: San Antonio, Texas // DEALER: Dailey and Wells Communications
A newbie installer smartens up a top floor in Texas.
If the mention of Texas evokes images of cowboys, dusty plains, and cacti, it's time to upgrade your imagery. And nothing will fast-forward your focus on the Lone Star State as quickly as a tour of this posh penthouse in San Antonio.
Occupying the three floors atop the Grand Hyatt Hotel alongside the famous downtown river walk, the private residence is perched in one of the premier areas of town. It's 7,000 square feet of WOW—bright colors, major views, and slick décor—a far cry from the rustic roots of the region. But this beauty isn't just nice to look at; it's a fully automated dwelling that's ready for a party at any hour.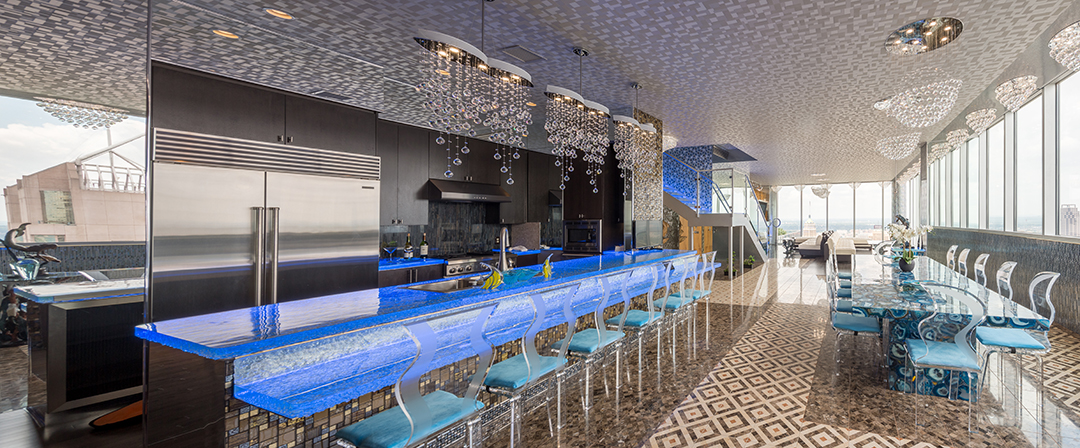 Owner Richard Wells is no stranger to automation. When building his ranch home 10 years ago, he was encouraged to include a Control4 system in the build. He was so impressed with the results, he has become a full-on fan. "I have enjoyed it so much. It has been totally flawless," Richard notes. After experiencing the benefits of automation in his ranch home, Richard knew he wanted to incorporate the systems into his work— designing and installing communication systems for governments around the country. His company, Dailey and Wells Communications, is an "electronic contractor" for clients like the Bay Area Rapid Transit (BART) in San Francisco. Richard knew his clients would benefit greatly from adding automation.
Richard was eager to dive in, but before incorporating them into beefier jobs for his company, his plan was to practice installing automation on a few smaller-scale projects, like his very own. "I decided to cut my teeth on some of my own properties first, "Richard says. So, he automated his corporate headquarters in San Antonio. It was a success, but Richard wanted to do one more pet project by himself—and that's where this penthouse project comes into play.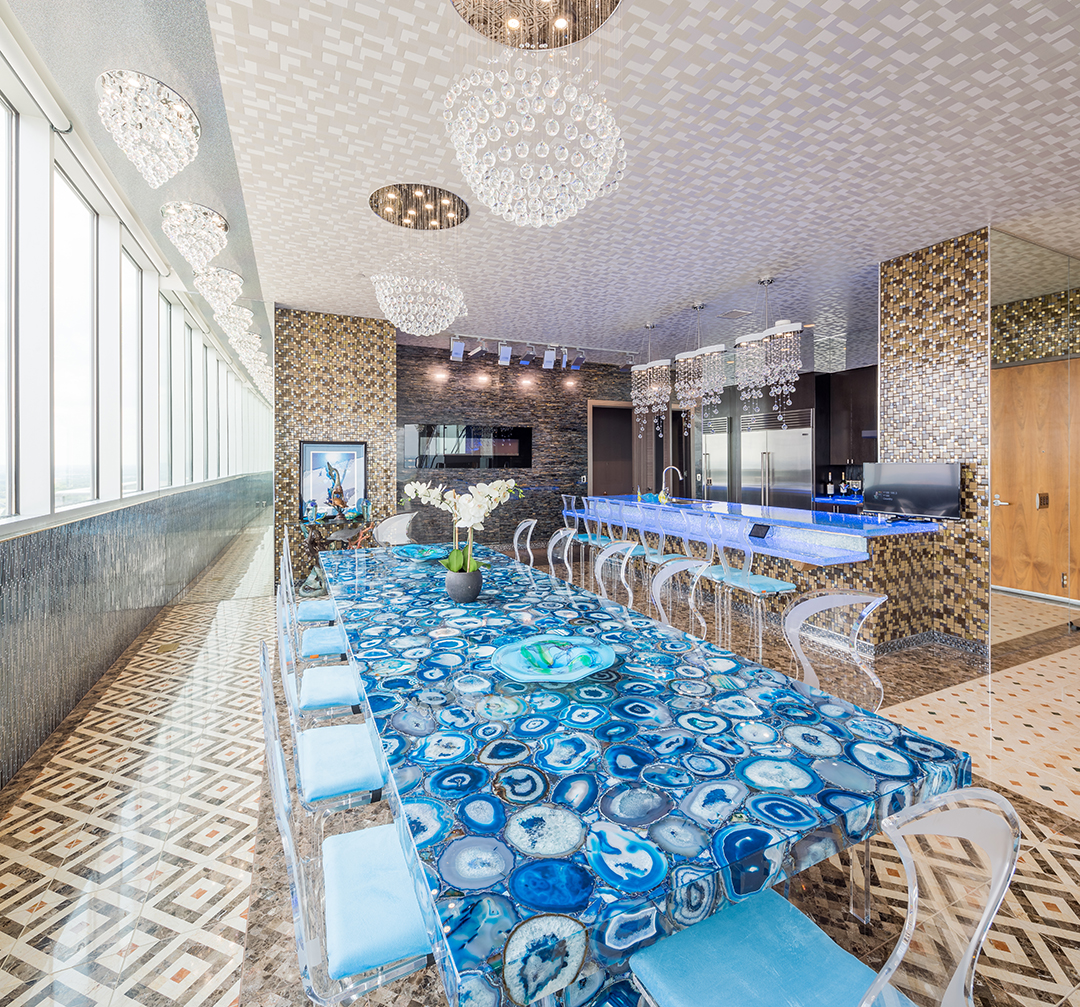 When Richard purchased the pad, it was absolutely ordinary—white walls and nothing special. Richard upgraded absolutely everything, adding private hot tubs and spacious patios. Then, he hired a local designer to produce a bold interior look and feel. The designer (who wishes to remain anonymous) went all out, using vivacious colors, curvy glass, and loud patterns, all of which somehow come together in a harmonious blend. "I call it aquatic modern," Richard laughs. But while it looks amazing, the built-in automation steals the show.
Having already lived with automation at his ranch home and his company office, Richard knew a space of this size could truly take advantage of all things automation. "Home automation in a place like this is almost a must," he says. The Control4 system controls myriad elements, including shades, lighting, and climate. "It has about every bell and whistle you'd want," Richard notes. There are four entertainment centers on the system, eight televisions, and eight surround sound systems. LED lighting throughout the unit is on the system, including the blue highlights built into the bar. Richard is especially glad he decided to include the doorbell on the system because now he gets a text when someone rings the doorbell and he's there. Automation has added a lot of convenience and has made a ton of clutter disappear. Richard replaced 77 remotes with one Control4 remote. "I had all these different remotes, for the TVs, the cable boxes, Amazon, Apple TV, the sound system, the fans," Richard explains. "I was able to reduce all of that down to one portable. And it works! It's totally reliable."
Not surprisingly, and more than anything, this penthouse was built for entertaining, which automation supports in many ways. "Welcome" sensors detect when guests enter a room and automatically turn on lights and start the music. Even before Richard arrives, he can trigger the three in-house ice-makers remotely to start cranking out ice for a party. People operate the system using SR-260 handheld remotes, 7-inch touch screens, or their iPhones. Richard's personal favorite feature? Having his beloved McIntosh sound system included in the automation. Now, he can adjust specific settings like the audio equalizer via Control4. "You just push a button and, boom, it sets it all up for you."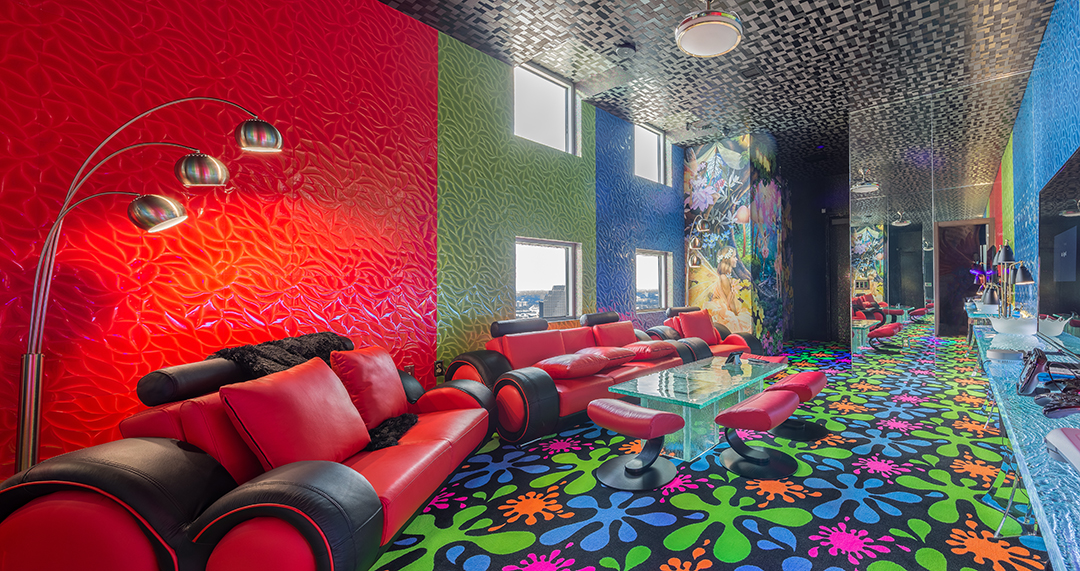 After living with the system for a few months, Richard was ready to tweak some settings to better match his home habits. Conveniently enough, these changes could all be done remotely. "The dealer doesn't have to come out at all," remarks Richard.
Richard says everyone who experiences the system is blown away. In fact, he's sent many a friend off to the local dealer to look into systems for their own places after experiencing automation in his "lounge in the clouds." Not a bad install from a relative newbie. "It was easy, just really easy," Richard notes.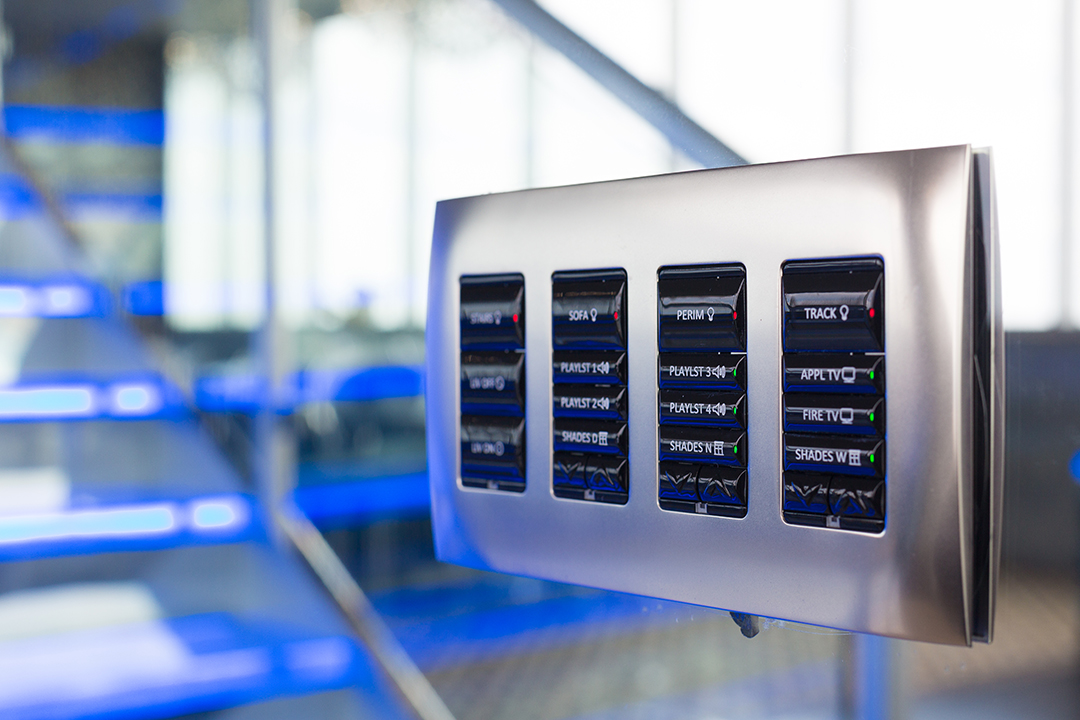 To date, Richard has installed automation into three properties. He's installed about 700 devices, and yet, Richard hasn't had one failure. "It's incredible stuff, absolutely incredible," he notes. And now Richard's truly ready to offer automation to his civic clients—putting shades, lights, and security on the governmental systems he installs. "It just shows you how much faith I have in these systems," Richard notes. "It's absolutely phenomenal."
Clearly, no rodeo required for the technology ride of one's life.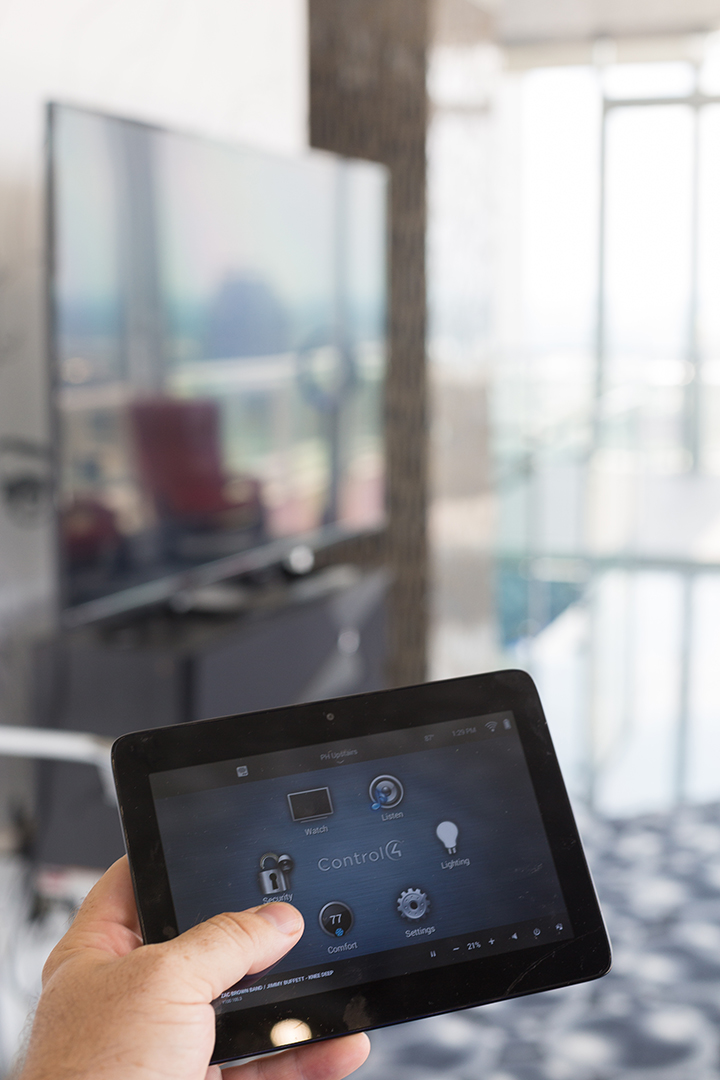 FOR MORE SMART HOME STORIES NEAR DALLAS CLICK HERE
Category
SMART HOME STORIES