Press Release
Control4 Names 2017 Dealer Award Winners at CEDIA Expo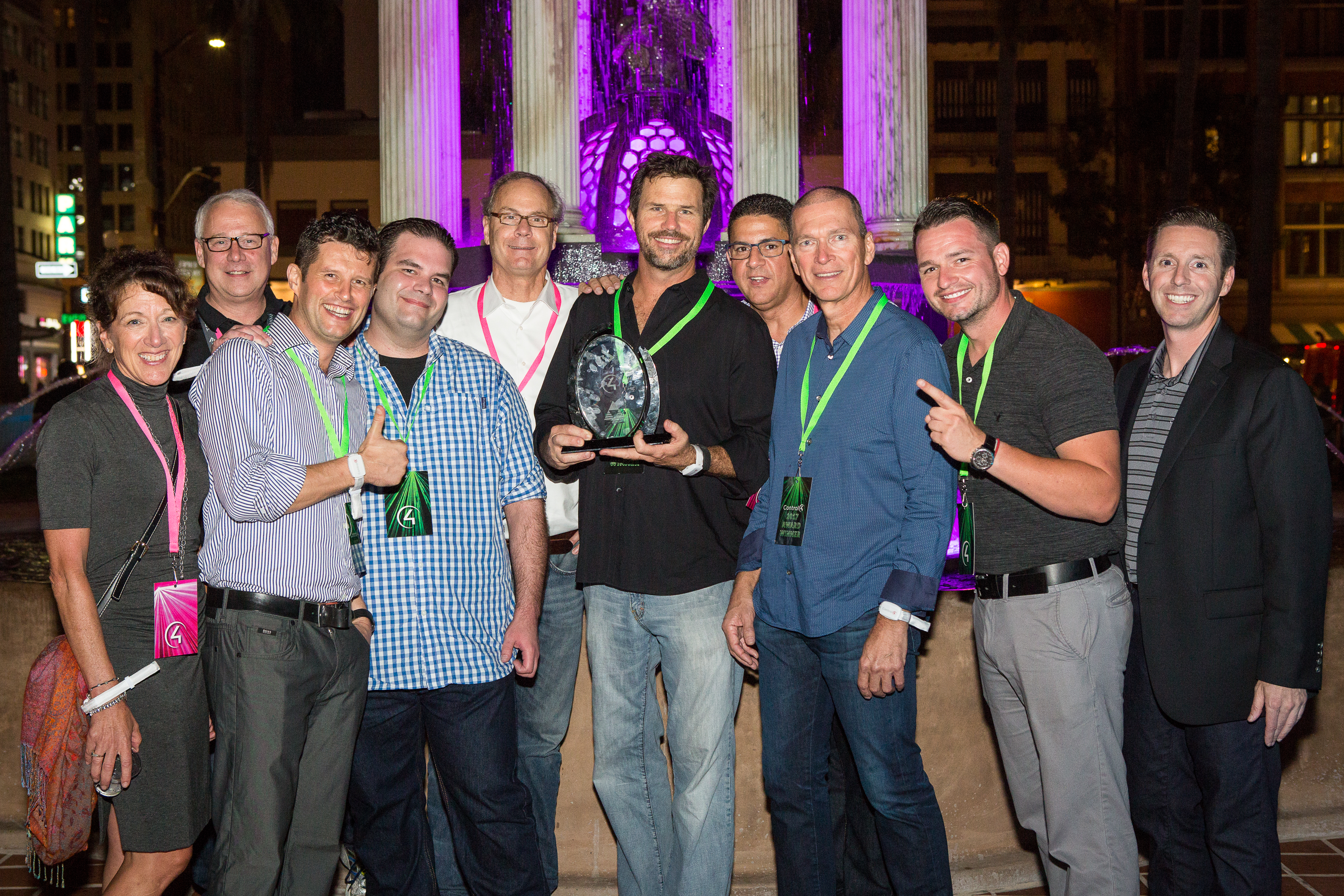 Pictured from left to right: Susan Cashen, Ernie Coulter, Miro Brinda, Rey Lopez, Martin Plaehn, Peter Lurtz, Nick Rosado, Mike Wittig, Neil Blasingame, Bryce Judd

Salt Lake City, UT – September 12, 2017 – Control4 Corporation (NASDAQ: CTRL), a leading global provider of smart home solutions, announces the 2017 Dealer Award Winners following the ceremony and party at CEDIA Expo, reintroducing the Circle of Excellence category, alongside Top Volume dealers.

"Each year we have a difficult time choosing winners, because we have so many successful dealers who are growing with us," said Bryce Judd, Senior Vice President of Worldwide Sales for Control4. "As we've added Pakedge and Triad to the Control4 family, we're proud to recognize the dealers who not only deliver top-notch, custom integrated smart homes, but we can now also recognize those who exceed in networking and high-resolution audio experiences."

For the third consecutive year, the 2017 Dealer of the Year Award was presented to Comet Electric and Equipment of West Palm Beach, Florida, who is also celebrating 45 years in business. Along with providing home automation, networking, and other services for homes, they also do so for many residential multi-dwelling properties. This year also recognizes Retail Dealer of the Year, Magnolia Audio Video, and Americas Distributor of the Year, Ampliaudio in Mexico.

"Comet Electric and Equipment continues to awe and inspire the Control4 community," said Judd. "Their consideration of everything from electrical and power protection to the finer points of shading and outdoor wiring contribute to the success of their installations."

Awards are also given regionally to top volume dealers, recognizing exemplary business practices for Control4 and Pakedge installations. Regional award winners include:

· East Region: Hanson Audio Video
· Central Region: ABT Electronics
· South Region: Vitex Home Automation
· West Region: Mike Tech Services

Addiotinal regional award winners include:

East Region:​​​
Complete AV
Total Home Technologies
Sight and Sound Systems
Digital Home Systems
Kraus Hi-Tech Home Automation
Neu Wave Systems
Creative Systems
Central Region:
Sound Check LLC
Audio Warehouse
Sunbelt Technology
Cable&Son
Premier Smart Homes
The J Edison Group
Zeller Digital Innovations
South Region:
Acadian Home Theater and Automation
Stellar AV
ListenUp
Nebraska Furniture Mart
Relative Sound/Relative Home Systems
West Region:
Cinematic Home Theater
Hood Branco Innovations
Evolved Home
Fuzion3
First Choice Security and Audio
Constellation Home Electronics
Control4 also awards Circle of Excellence dealers across each region. Circle of Excellence is a rejuvenated award, which allows Area Sales Managers to select a winner based on any significant achievement; whether for consistently delivering high-quality projects, unwavering brand loyalty, noteworthy business growth, following best practices, providing superior customer service, or continuing commitment to Control4, Triad, and Pakedge brands, etc. Those who were awarded at CEDIA include:
East Region:

Audiotronics
AVI AVI906
Appalachian Home Technologies
The Integrated Home
Sound Xperience
Complete AV
Sound & Vision
Overture
Central Region:

Eco Automated Designs
Millenium Sounds
Paulson's Audio Video
Symphonic Residential Systems Inc.
Georgia Home Theater
Home TheaterWorks
Quebec Domotique
Simply Sound Solutions
Suess Electronics
Avio
South Region:

Greenhome Automations
Bang & Olufsen
Synergy FL
Def Tech DEF908
Macaulley MAC900
Elite Audio Video Integration
Digital Home Concepts
Cinegration (denver)
Vision Electronics (st george)
Applause Custom Sight & Sound
Logic Integration
West Region:

Blueprint AV
Glabman Technology Solutions
Chameleon Technologies, Inc
Hermary's Inc
Technology Design Associates
Sound Effects
24/7 Audio Video
Ayreborn
Sound Advice
For more information on Control4 visit
www.control4.com
.
About Control4
Control4
[NASDAQ: CTRL] is a leading global provider of automation and networking systems for homes and businesses, offering personalized control of lighting, music, video, comfort, security, communications, and more into a unified smart home system that enhances the daily lives of its consumers. Control4 unlocks the potential of connected devices, making networks more robust, entertainment systems easier to use, homes more comfortable and energy efficient, and provides families more peace of mind. Today, every home and business needs automation horsepower and a high-performance network to manage the increasing number of connected devices. The Control4 platform interoperates with more than 10,500 third-party consumer electronics products, ensuring an ever-expanding ecosystem of devices will work together. Control4 is now available in 90 countries. Leveraging a professional distribution channel that includes over 5,200 custom integrators, retailers, and distributors authorized to sell the full-line of Control4 products, Pakedge branded networking solutions and Triad Speakers, Control4 is delivering intelligent solutions for consumers, major consumer electronics companies, hotels, and businesses around the world.
Control4 Press Contact
Kimberly Lancaster, Caster Communications
klancaster@castercomm.com
401-792-7080
# # #
Copyright ©2017, Control4 Corporation. All rights reserved. Control4, the Control4 logo, and Pakedge are registered trademarks or trademarks of Control4 Corporation in the United States and/or other countries. All other names and brands may be claimed as the property of their respective owners. All specifications subject to change without notice.
Source: Control4